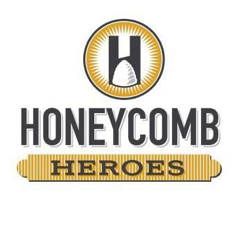 Honeycomb Heroes – is the newest vendor at the Jacksonville Farmers Market. Their "sweet" booth, located in the back of the main building, boasts a table filled with sweet, dripping and creamed honey. Shop from a selection of honey flavors that come straight from their local farm each morning. Local is something that we pride ourselves on and Honeycomb Heroes follows suit.
With a large emphasis on local bee pollination and healthy living, Honeycomb Heroes stresses the benefits of investing in local honey. Not only does it benefit the local economy, but digesting local honey improves your immune system's defense against allergies. When bees carry the pollen from flower to flower, it mixes with the honey that we ingest, giving our bodies a chance to get adapt to the pollen!
Of course, pollination wouldn't be possible without our bee friends. Honeycomb Heroes operates a small business, of (only) 300 hives, which allows for one of the best quality sweeteners on the market. They understand that our buzzing friends die at an unfortunate alarming rate, and have a great appreciation for their health. The bees are never treated with antibiotics and HH's prides themselves in practicing organic methods on treating their hives, resulting in 100% natural beeswax and raw honey.
The owners of Honeycomb Heroes are veterans that were initially looking for a hobby to keep their family sticking together. After 20 years of serving in the military, the owner and his family decided on bee keeping. It has now become their passion and it shows in the quality of their products. Come visit them each morning and sample their wide variety of honey, learn about their process or just say hello to some friendly faces!